0 komentar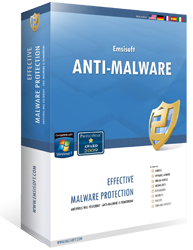 Emsisoft Anti-Malware 5.0
(previously known as a-squared Anti-Malware), is a powerful antivirus software that provides protection against viruses, trojans, spyware, adware, worms, bots, keyloggers and rootkits. The software combines two full scan engines (IKARUS Anti-Virus + Anti-Malware) and includes real time guard that recognizes and blocks all dangerous programs before they can cause any damage.
Supported OS :
Microsoft Windows XP (32-bit), Windows Vista (32-bit & 64-bit), Windows 7 (32-bit and 64-bit)
Offer Details :
For a limited time Emsisoft is offering free 1 year Serial Keycode of Emsisoft Anti-Malware 5, worth $40. Follow the steps below to grab your free license :
1. Visit the Emsisoft Anti-Malware
German Promo Page
and Register
2. You will receive an email from automail@www.emsisoft.com with your account activation link and coupon code. Click on the activation link to activate your account, then copy the coupon code.
3. Login to your
Emsisoft account
4. Click on "Manage Licenses", then click on "Get license by coupon code"
5. Enter the coupon code you copied in step 2, then click on "Convert"
6. Download the
Emsisoft Anti-Malware 5 (English Installer)
[92.09 MB]
7. Install Emsisoft Anti-Malware 5 and Log in with your account details to activate the program.